No compromises since 1978
Coralba has for over 25 years produced high quality rally computers that are easy to use and install. They were developed together with WRC teams to meet the extreme demands of top level rally competing. Still today, Coralba has the most advanced rally computers generally available for serious rally teams.
The reliability of the Coralba instruments has made them the preferred choice for anyone competing in rallying. This position has been achieved through their robustness, accuracy and simplicity.

Robustness
The Coralba products, with their aluminium housings, are designed to endure the toughest stages of a Paris-Dakar rally, and still not add more weight than needed. The very distinct buttons and LED displays are appreciated by world leading co-drivers when competing under tough circumstances. The Coralba robustness is not just a feeling, but it also ensures a low life-cycle cost.
Accuracy
The Coralba products are chosen by highway safety engineers throughout the world thanks to their accuracy. The tripmeter is very easy to calibrate and shows correct values to a tolerance typically better than 0.03%. The rally computer measures time, distance and speed with the same high accuracy, and can also be used as a precision fuel gauge. The Coralba accuracy is a value that you can depend on.
Simplicity
User friendliness is a trademark of the Coralba rally computers. Their logical and consequent registers make them easy to use. The Coralba Giant can be customised to show your favourite functions in different displays and with the programmable remotes you perform the most used commands without letting go of your notes. The Coralba rally computers are easy to install and their small size make them easy to fit into the cramped co-driver environment. The Coralba simplicity lets you focus on the competition.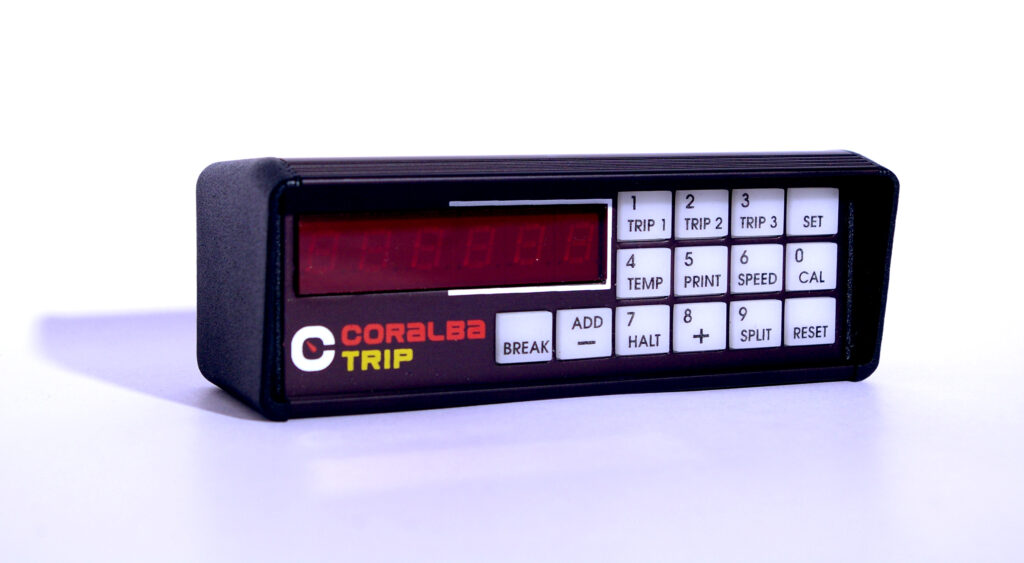 Coralba Giant is the most popular rally computer today. It contains the same basic functions as a Coralba Rally, but also a lot of more sophisticated aid for the advanced co-driver. Even though the possibilities with Coralba Giant are very comprehensive it is just as easy to use as a Coralba Rally.